Oldham Reserve Business Park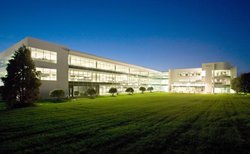 Oldham Reserve is a state-of-the-art lifestyle business campus and home to The Rawlings Company headquarters, located off of I-71 in LaGrange, Kentucky.  Oldham Reserve offers 1,000 acres of new development opportunity and the conveniences of living where you work.
Oldham Reserve is just minutes away from:
20 Minutes from Downtown Louisville
1 hour from Cincinnati & Lexington metro areas
2 Major Airports (Louisville and Cincinnati)
UPS World Port
UPS Airline Headquarters
Ford Manufacturing Plants
Benefits include:
Minimal taxes and business friendly!
Close to two major research universities!
Access to a talented, experienced, and highly educated workforce!
Ranks 1st in household income in Kentucky and 48th in the United States!
Nationally recognized school system ranked 1st out of 120 Kentucky County School Districts!
Home to internationally recognized Yew Dell Botanical Gardens!
Rural lifestyle close to the city!
Important Documents (.PDF)
MASTER PLAN MAP
OLDA Board of Directors 2022-2023
The Oldham-La Grange Development Authority (OLDA) was formed in 2005 by an interlocal agreement between Oldham County Fiscal Court and the La Grange City Council. Its purpose is to manage the finances and marketing, and overall development of the 977 acres at the Oldham Reserve Business Campus.
OLDA is an industrial development authority created in accordance with Kentucky Revised Statutes Chapter 154 Subchapter 50. It is governed by a six-member Board of Directors. The County Judge/Executive and the Mayor each make three appointments to the Board.
Bob Dye, Chair
Oldham County Magistrate
10502 Mountain Ash Lane
Prospect, KY 40059
502-299-7371
County Appointed, Expires 2024
John Stewart, Vice-Chair
President, Encompass-DDC
113 E Main St
La Grange, KY 40031
502-727-0465
City Appointed, Expires 2025
Fred Tolsdorf, Treasurer/Secretary
President, Champion Chevrolet
502 S 1st St
La Grange, KY  40031
502-758-1888
City Appointed, Expires 2025
George Flickner
Retired, US Army Corps of Engineers
5705 Spring Bluff Drive
Crestwood KY  40014
502-649-6578
County Appointed, Expires 2024
Stephen Edwards
GPAC Enterprises
1801 Button Ln
La Grange, KY 40031
502-938-2074
County Appointed, Expires 2023
Fran Scott
Retired, Scott-Klausing & Co.
2708 Creekstone Cir
La Grange, KY 40031
502-222-5366
City Appointed, Expires 2023
OLDA Board Attorney
Jeff Adamson
Adamson Law, PLLC
119 S. Sherrin Ave., Suite 220
Louisville, Kentucky  40207
Phone: 502-333-0959